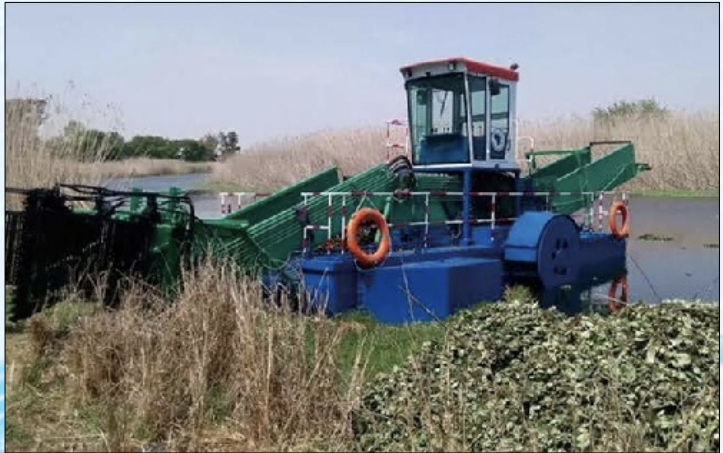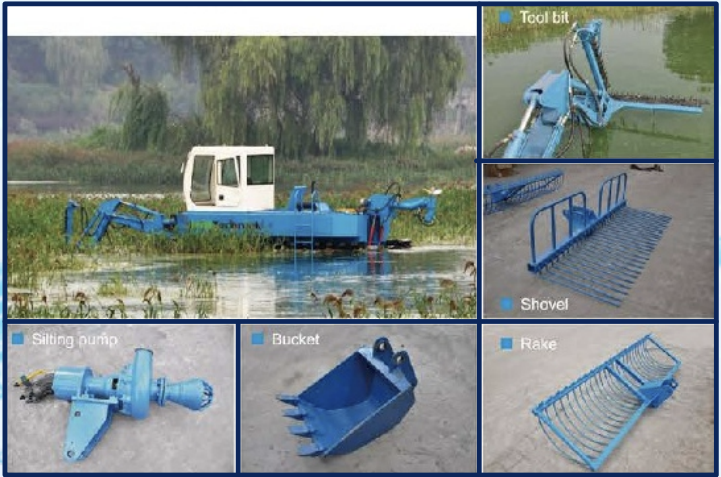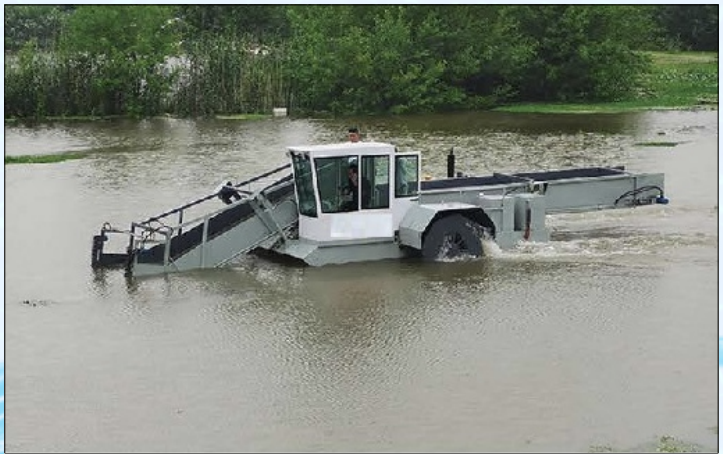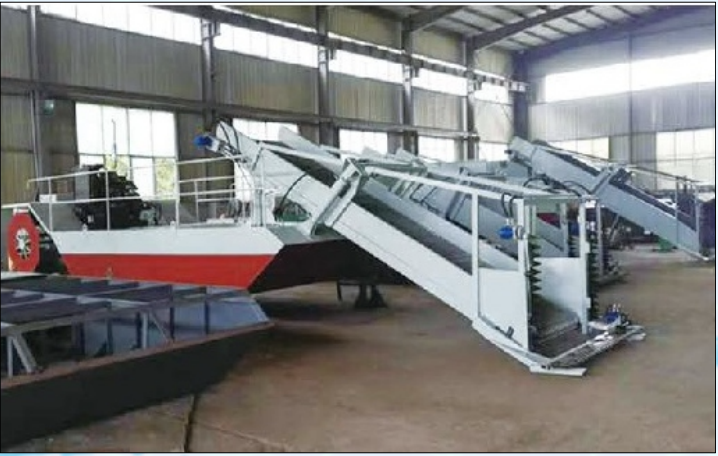 1. The weed harvester is small size can be used to harvest the water hyacinth and water lettuce. It's single pontoon, driven by couble paddle wheel and hydraulic system.
2. The harvester is in a structure of double transmission system. The front harvesting chain is used for collecting, cutting and transmitting water weeds, the collecting depth can be adjustable. The rear transmitting chain is used for loading water weeds as well as storage, then can discharge the water hyacinth to the offshore bank.
3.The harvester can be equipped with scissors, cutters, auxiliary collecting arm and collecting wheel to achieve multiple functions
4. The harvester has beautiful appearance, Rexible operation and cosy oporation

Premium Quality With Genuine Price
Size (L*W*H)
8*3.9*1.8 m
Strong Capacity
5m²
Cutting Width
1.5m
Cutting Depth
0.8m
Draft
0.4-0.5 m
Discharge Height
2.5m
Harvesting Capacity
1500m2/h
Dissel Power
30kw
Driven Type
Paddle Wheel
Control System
Semi Automatic
Pontoon Thickness
4*4*3mm
Working Speed
5km/h
Fuel Consumption
3-5L/H
Compact Size: Designed to be small for efficient maneuverability in various water bodies.
Single Pontoon with Double Paddle Wheel: Ensures stability while allowing swift movement in the water.
Double Transmission System: Front harvesting chain for collection and rear chain for storage and offloading.
Adjustable Collection Depth: Adaptability for both shallow and deep water operations.
Multiple Tool Attachments: Equipped with scissors, cutters, auxiliary collecting arm, and collecting wheel for versatile operations.
360° U-turn Capabilities: Allows the harvester to navigate tight spots and change directions swiftly.
Optional Propeller Drive: For added thrust and speed in larger water bodies or stronger currents.
Aquatic Cleanup and Conservation: Efficient in removing invasive aquatic weeds and maintaining ecological balance.
Floating Garbage Collection: Ideal for maintaining cleanliness in public water bodies, ports, and marinas.
Versatile Harvesting & Collection: Capable of functioning in varying water depths with easy offloading capabilities.
Enhanced Mobility and Flexibility: Navigates through crowded water bodies or areas filled with obstacles with ease.
Tourism and Recreation Boost: Cleaner water bodies can enhance the recreational value and attract more tourists.
Support to Fisheries: Creates a healthier habitat for fish by maintaining the cleanliness of the water.
Improved Water Flow and Navigation: Removes obstructions, ensuring easier navigation and reducing flood risks.
Frame and Structure:

Stainless Steel: Provides resistance against corrosion and ensures durability.
Aluminum Alloy: For lightweight yet sturdy structural components.

Pontoons:

High-Density Polyethylene (HDPE): Offers buoyancy and is resistant to impacts and UV radiation.

Tool Attachments (Scissors, Cutters, etc.):

Carbon Steel: Ensures sharpness and durability.
Titanium Coating: For increased wear resistance and longer life.

Paddle Wheels:

Reinforced Plastic: Provides balance between flexibility and strength.

Hydraulic System:

Brass and Stainless Steel: Components designed for longevity and to prevent rusting.

Transmission Chains:

Galvanized Steel: Ensures strength and corrosion resistance.
Q.Is product customization possible?
A.Yes the product can be customized as per the needs
---